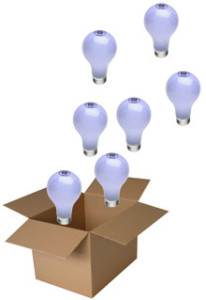 I run into professionals all the time that insist doing great work is the ultimate marketing strategy. They couldn't be more wrong. The story of Tim and his epiphany demonstrates how this dangerous fallacy is a growth-sapping siren song at countless professional services firms. You might even recognize your own firm.
Doing great work is indeed a sound business strategy, and one that should support your firm's marketing and sales. But, it doesn't replace a strategic marketing plan. Since very few of us have the advantage of being the only firm doing quality work, "quality work" is no longer a differentiator. To win consistently, your firm must do what Tim did and clearly articulate why you are better than other options in ways that are meaningful to your target clients.
Tim is president of a commercial contractor. His firm has long prided itself on challenging projects such as laboratories and health care facilities. As a self-described "technical builder," his company did quite well for many years with very basic marketing: the occasional brochure or postcard and an attractive website that lacked a strategic message. When the 2009 recession devastated the general construction market, Tim's specialty niche became a beacon drawing many new competitors. At the same time, the "technical" label limited his firm's own growth by boxing them in from going after new types of projects such as tenant improvements where Tim's team's focus on details and schedules were competitive advantages. They were squeezed from outside while constrained from growth. Not a comfortable situation, especially so in a down market.
Being a "technical" builder communicated what Tim's firm did–to some extent–but didn't address why clients needed a technical builder, and why Tim's firm was the best choice. After all, other firms could–and did–say they also were "technical" builders. Tim's team brought years of experience and a reputation for good work that got them considered for every project they seriously pursued, but brought home an alarmingly small number of contracts in the new, more competitive market. So on top of a lean market with fewer projects, he was losing after investing in a full sales cycle.
Re-thinking one's marketing strategy to avoid paralysis
The executive team faced a choice: double-down on the approach that built their well-regarded business, but wasn't working, or try something new. The resulting fear, uncertainty and doubt (FUD) about what to do in these situations paralyzes many firms into deadly inaction (or equally ineffective pursuits of the latest fads.) The correct approach–rethinking one's sales and marketing strategy–can be difficult, especially when doing so challenges what led to success in the past. At some point, doing nothing–or all the wrong things–places one on a certain path to ruin.
As it turns out, Tim's focus on pushing his team harder to win contracts blinded him to the real reason his team was falling short at precisely the moment when they most needed success. In Tim's case, potential clients viewed his firm as a "safe" choice that was more than capable of building the projects he sought. However, he failed to win contracts, not because of poor luck of the draw, but because he failed to affirmatively state why his firm was a better option than others and clearly conveying the specific benefits to the client of selecting his firm.
A re-tooled marketing strategy brings a happy ending
Tim's story has a happy ending. My interviews of his clients and potential clients revealed that while everyone respected Tim's firm and its capabilities, potential clients lacked the necessary knowledge of the benefits they would get from selecting him over other builders. Tim's firm emphasized processes that delivered expected results on time and on budget even under complex and demanding circumstances. Tim's costs were a bit higher, but the greater certainty was highly attractive to a certain segment of clients. The strategic marketing plan I developed not only emphasized this differentiating information, but it gave Tim's sales and business development teams new way of prioritizing proposals with the result that they now focus more attention on fewer proposals while winning the lion's share of what they pursue. When the market eventually rebounded, their new focus produced significantly higher profits with controlled growth rather than a return to the boom or bust of a cyclical industry.